Industrial Flanges Manufacturers, Suppliers and Exporters of india.
ANSI B16.5 Industrial Flanges, ASME B.16.5 Industrial Pipe Flanges, DIN Industrial Flanges
Stainless Steel Industrial Flanges, ASTM B.16.5 Industrial Flanges, Alloy Steel, Carbon Steel Industrial Flanges
We are Exporter and Manufacturer of a wide range of products including Industrial Flanges like Stainless Steel Flanges, Plate Flanges, Weld Neck Flanges, Blind Flanges, Slip On Flanges (SORF), Duplex Flanges, and many more such objects. Flange is a cast ring or forged that is designed to join parts of a pipe or any other equipment that needs an intermediary linking point. Flanges are connected to each other by locking and joining to the system of pipe by threading or welding.
Having excellent connections in the company of flanges manufacturers allows to satisfy the requirements of their customers on given and specified time. We are Exports High Standard Quality of Stainless Steel, Alloy Steel, Carbon Steel, Nickel, Titanium, Inconel, Monel, Hastelloy Flanges on a regular basis to different countries.
We provide of one of the widest range of customized and standard industrial flanges to meet up the diverse requirements of the clients.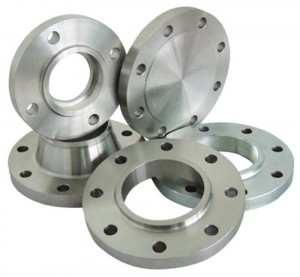 Specification
Standards: ANSI B16.47 Series A & B, ANSI B16.5, API-605, MSS SP44, ASA, EN1092, BS 4504, DIN
Type: Industrial Flanges
Size:  ½" (15 NB) to 48″ (1200NB)
 Class : 150 Class, 300 Class, 400 Class, 600 Class, 900 Class, 1500 Class, 2500 Class, PN6, PN10, PN16, PN25, PN40, PN64 etc.
Material – Stainless Steel, Duplex, Super Duplex, Nickel Alloys, Alloy Steel, Carbon Steel, Low temperature Steel
Material Grade:
Stainless Steel Industrial Flanges:  ASTM A 182, A 240 F 304, 304L, 304H, 316, 316L, 316Ti, 310, 310S, 321, 321H, 317, 347, 347H, 904L
Duplex & Super DuplexSteel Industrial Flanges: ASTM A182 / ASME SA182, F 44, F 45, F51, F 53, F 55, F 60, F 61
Carbon Steel Industrial Flanges: ASTM A105 / ASME SA105, ASTM A350 / ASME SA350, ASTM A181 LF 2 / A516 Gr.70 A36, A694 F42, F46, F52, F60, F65, F70
Low Temperature Carbon Steel Industrial Flanges (LTCS): Flange, A350 LF2/A350 LF3
Alloy Steel Industrial Flanges:  ASTM A182 / ASME SA182 & A387 F1, F5, F9, F11, F12, F22, F91
Nickel Alloy Industrial Flanges:  ASTM / ASME SB 564 / 160 / 472, UNS 2200 ( Nickel 200 ), UNS 2201 (Nickel 201 ), UNS 4400 (Monel 400 ), UNS 8020 ( Alloy 20 / 20 CB 3, UNS 8825 Inconel (825), UNS 6600 (Inconel 600 ), UNS 6601 ( Inconel 601 ), UNS 6625 (Inconel 625), UNS 10276 ( Hastelloy C 276 )
Sales Locations India –
| | | | | |
| --- | --- | --- | --- | --- |
| Mumbai | Ahmedabad | Bhopal | Bikaner | Pune |
| Delhi | Chennai | Visakhapatnam | Mangalore | Nagpur |
| Bangalore | Kolkata | Siliguri | Assam | Indore |
| Hyderabad | Surat | Nashik | Cochin | Thane |
| Faridabad | Rajkot | Aurangabad | Bhavnagar | Ranchi |
| Coimbatore | Mysore | Salem | Tirupur | Bikaner |
| Raipur | Bhubaneswar | Bhilai | Ankleshwar | Bhiwandi |
| Vadodra | Kochi | | | |
Export Market –
| | | | | |
| --- | --- | --- | --- | --- |
| Eastern Europe | Asia | North America | Western Europe | Mid East/Africa |
| Australasia | Central/South | UAE | America | Portugal |
| Spain | Indonesia | Italy | Angola | Poland |
| Brazil | Sri Lanka | Russia | Chile | Singapore |
| Oman | Venezuela | Costa Rica | USA | Qatar |
| Thailand | Canada | Saudi Arabia | Bahrain | Egypt |
| Malaysia | Turkey | Mexico | Chine | Peru |
| United States | Nigeria | Jordan | Kuwait | Dubai |
| Bangkok | Iran | Germany | UK | New Zealand |
| Vietnam | South Africa | Kazakhstan | | |